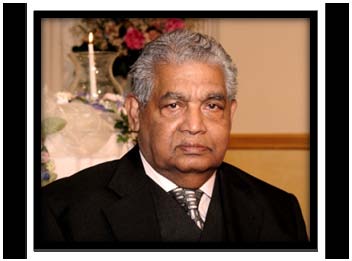 Mr. Casimir Francis Xavier
Born: 27th Nov 1932       Died: 4th Feb 2012
Mr. Casimir Francis Xavier Passed away on Feb 4th 2012 peacefully at age of 79, beloved husband of Bernadette (Baby, Canada), son of late Mr. & Mrs. Casimir (Sillali), son-in-law of late Mr. & Mrs. Joseph (Temple road Jaffna), Loving father of Nirmalan (UK), Niranjan (Canada), Nisha (Canada), and Niluxmi (Australia), Dear father-in-law of Suhanja, Vasanthy, Sean and Jerry.
Proud grandfather of Yalini, Yathevi, Cheran, Saranngan, Shanez, Sharleen, Sean Junior, Nishika and Jeremy.
Loving brother of, the late Mrs. Ponnamma Sountharam, the late Mrs. Sellamma Sountharam, Susaipillai Casimir, the late Mrs. Navamani Gabirealpillai, the late Mr. Nicholapillai Casimir, Nesamani Sellaiah, Richenmani Joseph, Rev. Sr. Rita, Ponmani Jeyanayagam and Navaratnam Casimir.
.
The Family will receive Friends at the:
Chapel Ridge Funeral Home
On Thursday Feb 9th & Friday Feb 10th 2012, between 5pm and 9 pm
8911 Woodbine Ave, Markham, Ontario, L3R 5G1, Canada
Funeral Mass will be held at:
Canadian Martyrs Catholic Church
On Saturday Feb 11th 2012 at 10.30 AM.
522 Plains Rd. (O'connor Drive and Woodbine Ave). Toronto, ON. M4C 2Z1
(Parking is available at the Shopper's Drug Mart Parking lot)
Interments to Follow at Pine Hills Cemetery
625 Birchmount Road, (St Clair Ave East & Birchmount Road)
Scarborough, ON. M1K 1R1
Contact Information:
Derick Nirmalan (UK) - Home: (44) 134-4484596
Eric Niranjan (Canada) - Cell: (647) 892-8972 / Home: (905) 415-8662
Freda Nisha (Canada) - Home: (705) 792 - 0028
Greta Niluxmi (Australia) - Home: (61) 398019414